Behavioral Sciences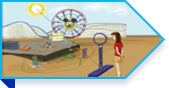 Our unique investigations into consumer behavior often take the form of field experiments with "real-life" Disney guests and customers. More recent projects have begun to shift to the intersection of technology (particularly mobile) and consumer behavior. We also study other aspects of the media consumption experience. Our goals are to enhance guest satisfaction, test new business models, and further Disney's aims around social consciousness and sustainability.
Projects
(in alphabetical order)
Perceptually Motivated Guidelines for Voice Synchronization in Film
In this work, we focus on voice synchronization, an aspect of video quality that is strongly affected by current post-production and transmission practices. We examined the synchronization of an actor's voice and lip movements in two distinct scenarios. First, we simulated the temporal mismatch between the audio and video tracks that can occur during dubbing or during broadcast. Next, we recreated the pitch changes that result from conversions between formats with different frame rates.